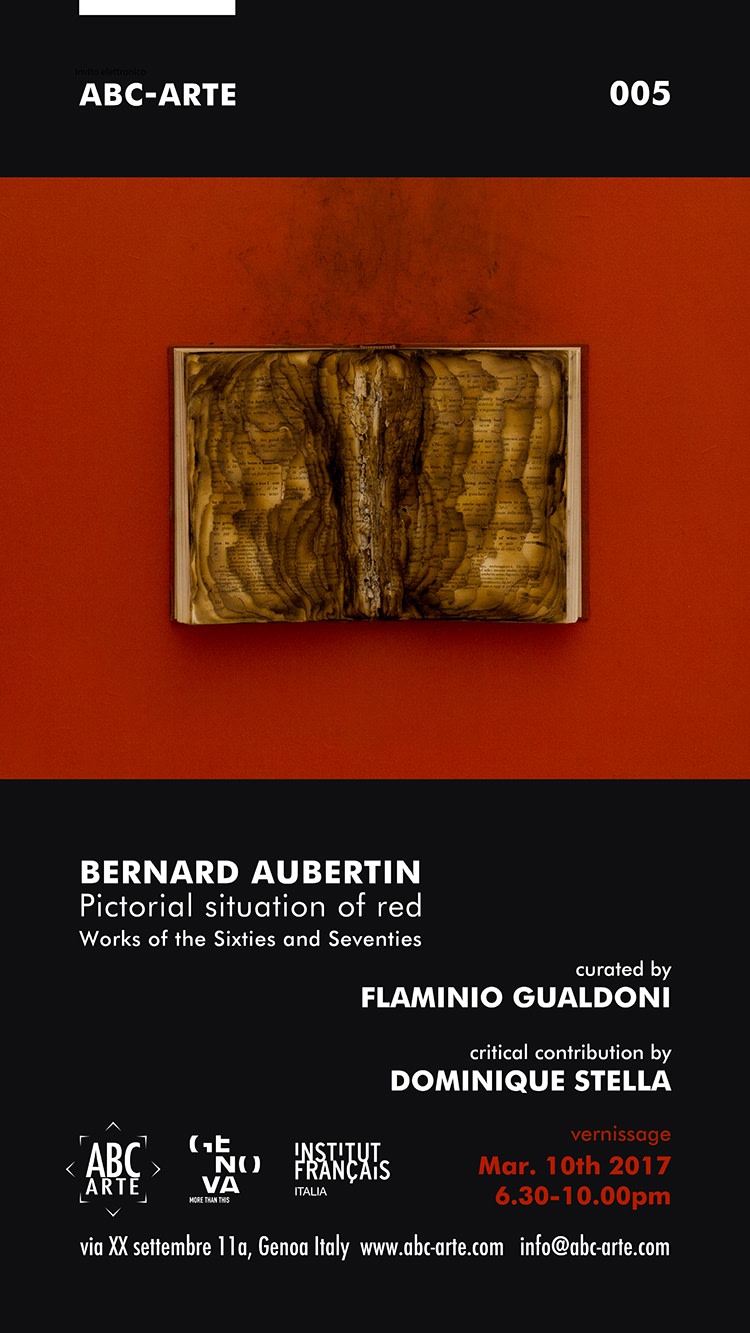 ABC-ARTE Opening exhibition Bernard Aubertin : Pictorial situation of red.
free entry
6.30 p.m. - 10 p.m.
www.abc-arte.com
Friday 10th March at 6.30 p.m., ABC -ARTE inaugurates the personal exhibition of Bernard Aubertin. The exhibition is curated by Flaminio Gualdoni with a critical contribution by Dominique Stella and will be open until 28 April 2017.
Sponsored by the municipality of Genoa, and by the Institut Français-Italia the retrospective on the French artist aims at providing anthological and chronological evidence of his artistic path during the Sixties and Seventies. "In 1957 I met Yves Klein and his monochromatic canvas. I was impressed by the beauty in his painting and I didn't find his problem unusual: I was simply excited". This is what Bernard Aubertin writes in 1961 in his text Esquisse de la situation picturale du rouge dans un concept spatial, from which this exhibition takes the title, and that was published on the 3rd issue of Mack and Piene magazine "Zero".
His monochromatic pictures are red from the very beginning. Red is an energetic colour, chosen by all the avant-gardes, futurism and soviet art ahead, for its original assertive energy. This is what Kandinskij aims at teaching in his work "On the Spiritual in Art" where he asserts: "Red interiorly exerts the action of a lively, perky and agitated colour…. Despite all its energy and intensity it still bears a steady note of immense strength, as if it were aware of its aim".
The boundaries of Aubertin's world are well traced in the memorable exhibition "Nul" which took place in 1962 at Stedelijk Museum in Amsterdam, where his works were displayed with others by Fontana, Schonhooven, Mack, Uecker, Haacke, Peeters, Arman, Armando, Mavignier, Castellani, Manzoni, Dadamaino, Lo Savio, Dorazio.
As Flaminio Gualdoni states in his introduction "According to the requirements of his time Aubertin eludes the execution and at the same time the rhetoric of ability and of the expression of one's own intimacy while he finds in the use of red an authentic dynamic sensation, an energy arising from genuine distilled vitality. Like blue in Klein, red in Aubertin bears its own history as a whole, made up of the idea of blood, of love transcending its physicality, of an immaterial and powerful energy. Paracelso argues: each element has its own colour: earth is light blue, water is green, air is yellow, fire is red."
A new precious book belonging to ABC-ARTE bilingual series, in Italian and in English, focuses on the exhibition. It contains the critical review of the curator Flaminio Gualdoni and of Dominique Stella , as well as photographs, insights, documents about the artist's issues and an abstract from the article published on the 3rd issue of Mack and Piene magazine "Zero". ABC-ARTE would like to thank the Rosenberg Gallery for its fundamental contribution in the collection of documents and equipment used for the exhibition.
Bernard Aubertin was born in Fontanay-aux-Roses in 1934. After having studied at the Public School of Decorating, he approaches Cubism and Futurism as a selftaught artist. In 1957 he meets Yves Klein in Montparnasse who inspires him to the creation of his famous monochrome paintings, starting the following year with his first "rouge total". From this moment, his explorations will be focused on red, intended as fire and energy. He features the so-called Tableaux Feu (fire paintings), covering his monochrome red canvas with nails (Tableaux- Clous), wires (Tableaux Fil de Fer), matches (Parcours d'Allumettes) and other varied materials, like candles and iron nets. Through the use of red he transfers the energy of the soul on the canvas thus achieving a metaphysic understanding of painting. Spiritual existence is revealed through the art and such strength is represented by the colour.
In the Sixties Aubertin introduces the element of fire into his works: a means of expression that becomes the physical representation of his red. Many of his works consist of conceptual compositions created with matches that can be lighted up creating natural variations originated by the lively motion of the flame. The creating process of the work is intrinsic in the final gesture. The spectator clearly perceives and experiences the rise of transformation. The destructive nature of fire turns into a regenerating force.
In 1962 Aubertin is one of the founding members of the Zero international movement, taking part in their exhibitions and exchanging letters with Heinz Mack, Otto Piene and Piero Manzoni. He shares with them the refusal of art as a language form and the belief that art must be expressed in a simple and austere way. The red works of Aubertin promoted new energy and vibration inside the movement.
In the 80's and 90's his artistic path evolves in performances where he sets pianos and cars on fire, whilst in recent years the red of monochromes is replaced by white, black and gold. Bernard Aubertin's monochromy represents the pictorial silence: the work of art must not be a description, it has nothing to say, nothing to express. The work of art is a transposition of the existence, of the spirit and, for this reason, it cannot be explained through graphic signs, words, shapes. Bernard Aubertin was one of the founders of the Dusseldorf Zero Group. Since the 60's his works have been displayed all over Europe and in the United States, including the R.Guggenheim Museum (New York), the Stedelijk Museum (Amsterdam) and the Palais de Tokyo (Paris). His works are hosted in many different museums and also in the permanent collections of the Musée de Graz, Museum of Dusseldorf and the Centre National de l'Art Contemporain (Paris). From 1990 he leaved and worked in Germany until he died in 2015.'